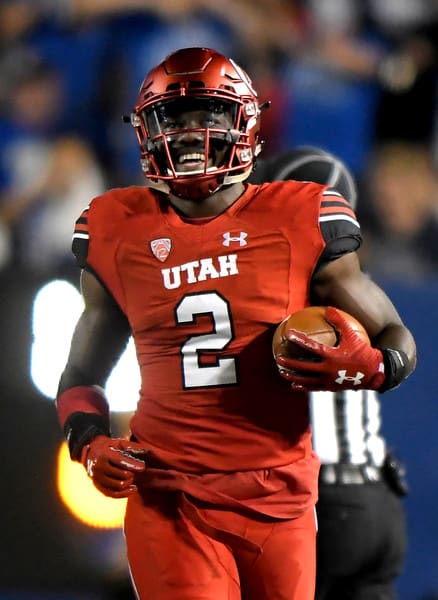 Utah sophomore quarterback Tyler Huntley passed for 165 yards and rushed for 57 yards and two scores on the ground to lead the Utes to a dominating 30-14 victory over West Virginia in the Heart of Dallas Bowl played inside Cotton Bowl Stadium.
Sophomore running back Zack Moss had another terrific performance as he rushed for a game-high 150 yards and a touchdown. It was Moss' fifth game of the season where he has rushed for over a 100 yards.
Zach Moss with the 58-yard TD run. #GoUtes #UTAHvsWVU #CottonBowl pic.twitter.com/0P9lB8DT4s

— GoUtahUtes (@UtahUteFans) December 26, 2017
Utah Senior QB Troy Williams Selfless Act Was Highlight Of Bowl Game
With the win, head coach Kyle Whittingham extended his record-setting performance as he improved to 11-1 in bowl games. His 11 bowl victories currently ties for first among active coaches with Alabama's Nick Saban.
Here are how fans reacted after the win over West Virginia:
West Virginia has 3 first downs in the whole first half #GoUtes #HODBowl #UTAHvsWVU pic.twitter.com/Y335z4BSUa

— James Williams (@JamesfromUtah) December 26, 2017
Zack Moss is might be next year's Rashaad Penny. Dude is a problem. Hope he's more involved in the passing game next season. #UTAHvsWVU

— Dan (@CraymondGreen) December 26, 2017
Z Moss is a beast. #UTAHvsWVU

— Mr. T (@thursto11) December 26, 2017
The 58-yard TD by @Utah_Football Zack Moss fourth longest in @HODBowl history.

— Heart of Dallas Bowl (@HODBowl) December 26, 2017
Utah fans waiting to see the ball handed off to Zack Moss. pic.twitter.com/UPq4DIMZSE

— Holli Alexa (@Holli_Alexa) December 26, 2017
If handing off the ball to Zack Moss isn't your default 3rd-and-1 play, you're overthinking the play call. #Utes #HODBowl

— John Coon (@johncoonsports) December 26, 2017
Utah Football: Utes Beat West Virginia In Heart of Dallas Bowl; Whittingham Improves To 11-1 In Bowl Games
Utah's TE trying to catch a wide open TD lmao that was horrid! Just move to the line. #UTAHvsWVU #WVU #NCAAF pic.twitter.com/LVuJzvRF6O

— Deon Hampton (@Blemish_P) December 26, 2017
Receivers today… ☹️ #GoUtes #HODBowl #UTAHvsWVU pic.twitter.com/4DP3givr8l

— James Williams (@JamesfromUtah) December 26, 2017
Haha! You can't block @llotulelei with just one guy!! #WVU apparently didn't notice that on film. #HODBowl #WVUvsUTAH #UTAHvsWVU

— Will Durrant (@wdurrant3347) December 26, 2017
Sack Lake City #SackLakeCity #GoUtes #HODBowl #UTAHvsWVU pic.twitter.com/leilJHdWD3

— James Williams (@JamesfromUtah) December 26, 2017
The last 15 times Utah has been in a bowl game, including today, they have won 14 times. Added bonus, the state is beautiful and the people are nice. Happy holidays. pic.twitter.com/6DOaUMR2pw

— Colin Cowherd (@ColinCowherd) December 26, 2017
One more note on the Heart of Dallas Bowl: Matt Gay's three field goals gave him the single-season Pac-12 record for made field goals. Gay has 30 made field goals this season. #Utes #HODBowl

— John Coon (@johncoonsports) December 26, 2017
Proud to send these seniors off with 4 straight bowl wins. Great group of guys to coach!

— Kyle Whittingham (@UtahCoachWhitt) December 27, 2017
Congratulations bro, best bowl winning percentage in CFB and tied for most overall bowl wins by an active FBS coach, with some other guy, I forget his name. https://t.co/GI7NqBa7qq

— Fred Whittingham Jr. (@FWhittinghamJr) December 26, 2017
You want @HODBowl highlights?

We'll give you #HODBowl highlights.

? some sweet @Utah_Football action. ⤵️ pic.twitter.com/sr1qOQIROJ

— Pac-12 Network (@Pac12Network) December 26, 2017
Utah Football: Kyle Whittingham Isn't On The Hot Seat And Won't Be Leaving Anytime Soon Either