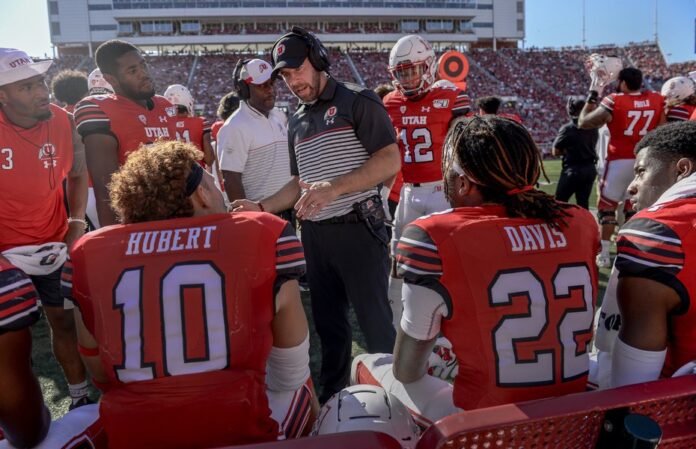 The University of Utah has suspended defensive coordinator Morgan Scalley and launched an external investigation concerning a 2013 text message — which included a racial slur — that was accidentally sent to recruits.
"On Wednesday night, I was made aware of a social media post that referenced a 2013 text message that included racist language, sent by our football program's defensive coordinator, Morgan Scalley," Harlan said. "I initiated conversations with our campus partners, including President (Ruth) Watkins, and we agreed to have an outside firm review this matter, to seek further details and determine whether this was an isolated incident."
Check out (GoUtahUtes.com) to find all the latest news about the Utes!
The full Utah statement. pic.twitter.com/T2JXL81Z6L

— Josh Newman (@Joshua_Newman) June 5, 2020
Scalley, a former All-American safety for the Utes, has been with the program for nearly 20 years, both as a player and a coach. He was a star on the 2004 Fiesta Bowl team that finished 12-0 and a No. 4 ranking in the AP Poll.
Since then, Scalley has been an assistant coach on defense coaching the safeties before taking over as defensive coordinator. Last year, Scalley was a finalist for the Broyles Award, which honors the top assistant coach in college football as the Utes finished No. 2 in total defense, giving up just only 269.2 yards per game, and sixth in scoring defense, at 15 points per game.
Here's how past and present Utah football players and coaches had to say about Scalley's suspension, including several posts from former players who claim that this was not an isolated incident.
This has been an exceptionally difficult week. However, as noted in Mr. Harlan's statement, I am unable to comment because Coach Scalley's issue is under review. I pray we all remain patient and withhold final judgment until all of the facts surface.

— Sharrieff Shah Sr. (@UteReef33) June 7, 2020
He embraces the black community with his whole heart and has never shown me different. He has welcomed me into his family as I have him into mine.

— Marcus Williams (@MarcusWilliams) June 7, 2020
Utah swept under the rug what happened to me back in 2010 when I first got there ultimately led to me leaving after them threatening my scholarship and them protecting and covering up a bunch of bs. I was 17 at the time.UofU ,Coach Whit ,& Scalley don't want this to come out.

— Draymond (@APE_Draymond) June 6, 2020
Damian Payne 2010 recruit. And I still love and have respect for the UofU and my brothers I met .But no kid (recruit)at 17 years old should've had to deal with what I did. Because of the legality with this case. I will not disclose full details yet.

— Draymond (@APE_Draymond) June 6, 2020
Utah fans, please don't make matters worse! https://t.co/wuzfBOrmo6

— The U Fan Cast (@TheUFanCast) June 6, 2020
So the txt was meant for another coach? Wtf hmm Who is that other coach? That means him and the other coach uses racial slurs very often when texting each other! Very often!

— Anthony Denham Jr (@DENgoinHAM3) June 6, 2020
I hope shah ain't allowing that bs! Or intimidated about losing his job for speaking about it. The only black coach on staff if they don't respect him, theyre not going to hesitate disrespect the black players. Shah should've put a stop to that shyt! When he first used it to him!

— Anthony Denham Jr (@DENgoinHAM3) June 6, 2020
Love you coach. Just know I played for this guy and I can assure you he's not a racist. Just unlucky cause of the platform he's on. As well as what's already going on in America. Hard to judge cause most of us say things in private that don't get exposed like this. All love. https://t.co/ZdUa0qdKsu

— Jülian Blackmon (@JumpManJu32) June 6, 2020
@SafetyPride is a great coach but an even better human being. This man may be a lot of things like hard nosed and loud but one thing forsure is he isn't racist. Obviously whatever was said is unacceptable but this does not portray the great character and warm heart he has✊? https://t.co/0c6fONTqYa

— Terrell Burgess (@TiTaniumT98) June 6, 2020
A lot has been said about @SafetyPride , while I don't agree with the language Morgan Scalley is a good man who made a mistake. Emotions are high so right now isn't the time for trial via Twitter. I'll stand with you Scalley ✊?

— D. Shelby (@DerrickShelbyII) June 6, 2020
Wow ? @SafetyPride this hurts that's what u think and feel after all we been through #BlackLivesMatter

— Steven Savoy (@Shooters1412) June 6, 2020
People are saying" who keeps messages from 7 years ago" I have knew about it the whole seven years.. wondering if he really meant it!! Wondering if he looked at me different..

— BoobieHobbs (@Boobie__8) June 6, 2020
Everybody needs to be held accountable.. right isn't that how we were taught !!!!

— BoobieHobbs (@Boobie__8) June 6, 2020
Everyone was Treated Definitely behind close doors. We All have our own experiences.

— Moe Lee (@MrMoeLee) June 6, 2020
So it's Black Lives Matter but when it's one of our own we are suppose to stay Quiet?

— Moe Lee (@MrMoeLee) June 6, 2020
I stand with @SpotlightLacy ?

People have no idea the Man they are trying to protect.

— Moe Lee (@MrMoeLee) June 6, 2020
Morgan Scalley called me a Nigga… I don't care what you think. END OF STORY

— Ryan Lacy (@SpotlightLacy) June 6, 2020
I, too, was called a racial slur (N-word) by this man in 2008, confronted him my senior year 2013. Held onto it 5 years and Got a half ass apology, more on terms of an excuse. He is a great coach, but needs to be a better Man. Truth hurts. God bless

— Ryan Lacy (@SpotlightLacy) June 6, 2020
I was a victim of his blatant racial slurs in 2008 as a freshmen, I confronted that man my senior year, 2013! In front of my teammates. Received a not so sincere apology, more of an excuse. Truth will always come to light. I pray that this will change his patterns. #GoUtes

— Ryan Lacy (@SpotlightLacy) June 6, 2020
Wowwww!!!!!! I F'n knew it!!!!!! And what u mean "men of color?". See the truth always comes out. F that Utah was crazy, I seen some shit!!!! And my teammates know wassup. Let's see if Saftey Pride gone speak up and be honest.

— Sean Smith (@SeanSMITH24) June 6, 2020
Got love for Utah…but i totally feel you @SeanSMITH24 this and know exaclty what you are talking about, no need to explain to anyone cause people wont listen or believe us if we told them!!! https://t.co/lbNi3JN9aP

— K.L.Y Jr (@_KYoung24) June 6, 2020
Honestly, I'm not suprised??‍♂️?.

— HattyTheHero (@_HattyF) June 6, 2020
Now I'm not implying this is Coach Scalley. Man believed in me and helped guide me to Utah. He has helped me and helped me be very successful here… But we don't really know PEOPLE how we think we do.

— Lørd Įmpälêr (@lionel_nacua) June 6, 2020
This man has treated my teammates and I with the utmost respect, teaching us various life lessons. I am truly shocked that any of this may even possibly be true. He & his entire family have been very loving and accepting. I hope he is able to return & be the man we know he is. https://t.co/dJKFLLCihj

— Nick Ford (@FearThat55) June 6, 2020
I'm dumbfounded. Lost for words.

— Tom Hackett (@TomCantHackett) June 6, 2020
Coach was one of the first people I met during my recruiting process and one of the most genuine and amazing coach's I've got to meet. I can't believe it, that's not him and everyone that's spent any time around him knows it. He's a amazing coach and a better person. https://t.co/S4h3LSZ0hd

— Big Al Harrison (@BigAlHarrison1) June 6, 2020
— Andy Phillips (@AndyDPhillips) June 1, 2020
During my recruitment with Utah, Coach Scalley treated my family and I with the utmost respect at all times. Even during my mission, he was always there. He's a great coach and even better man. I'm sad to see this but I hope he's able to return and continue to do what he does! https://t.co/q1O15khZEP

— Khyiris Tonga ?? (@khyiristonga) June 5, 2020
Check out (GoUtahUtes.com) to find all the latest news about the Utes!
Support us by following us on Facebook and on Twitter.