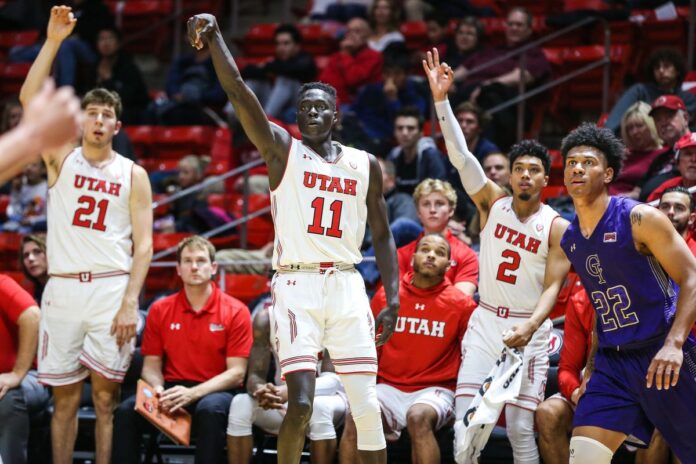 One of the longest and greatest college basketball rivalries has been extended as Utah and BYU announced a four-year extension to keep the series going through 2023.
The first game of the extension will take place at BYU on Dec. 12 at the Marriott Center. The Utes and Cougars will then play at the Huntsman Center in 2021, in Provo in 2022 and in Salt Lake City in 2023.
"BYU vs. Utah is one of the greatest rivalries in college basketball," BYU head coach Mark Pope said. "We loving playing the in-state games. They are a hallmark for college basketball and are so special for our players and fans."
Check out (GoUtahUtes.com) to find all the latest news about the Utes!
Kentucky's John Calipari Shares Touching Memory Of Legendary Utah Coach Rick Majerus
Utah and BYU have played 260 games over 110 years with BYU holding a slight edge in the all-time series at 131-129. Utah snapped a two-game losing skid against BYU this past season in an 102-95 overtime thriller, as the Utes came back from a 16-point deficit inside the Huntsman Center.
Since becoming the Utah head coach in 2011, Larry Krystkowiak is 4-4 against BYU and helped turn the program around in what was turning into a lopsided rivalry for the Cougars on the hardwood.
Both teams are expected to be fighting for NCAA Tournament bids next year, however, the two teams will be at different parts of their journey in getting back to the Big Dance. BYU will lose a bunch of seniors (Yoeli Childs, TJ Haws, Jake Toolson, Dalton Nixon, Zac Seljaas) and will look to reload from a team that finished in the Top 20 before the season was canceled.
Utah Athletics: 2019 Revenue Skyrockets — Here's The Full Breakdown
Check out (GoUtahUtes.com) to find all the latest news about the Utes!
Meanwhile, the Utes, who have gone through several rough patches the past few seasons with player turnover, should be able to make a tournament run if the team can stay together. Utah showed just how good it can be when they took down then-No. 6 Kentucky in a neutral site game in Las Vegas in December.
Both teams should be pretty good next year which will help come March when resumes are being compared for teams as the NCAA tournament committee looks at Quad 1 and Quad 2 wins.
The non-conference season will be a bit shorter this year as the Pac-12 adds two more games for a 20-game conference schedule. In addition to the series extension with BYU, the Utes will play Missouri, Utah Valley and Cal State Fullerton. The Runnin' Utes will also play in the Battle 4 Atlantis in the Bahamas over Thanksgiving weekend with the likes of Duke, West Virginia, Ohio State and Memphis.
Support us by following us on Facebook and on Twitter.
Utah Athletics: 2019 Expenses Soar — Here's The Full Breakdown