After winning the Pac-12 South Division for the second consecutive year and finishing with its highest AP ranking (No. 16) in the Pac-12 era, Utah fans had a lot to cheer about this past season.
With a solid group of players returning for the 2020 season, along with one of its highest-rated recruiting classes in program history, Utah fans should be in for another banner year this upcoming season.
And the outlook for the program only continues to get better as the athletic department reported record revenues in 2019. Total revenue came in at $99.5 million, with expenses coming in at $96.0 million. On a year-over-year basis, revenues jumped by $8.2 million while expenses rose $8.5 million. The table below outlines how the University has fared over the past four years.
| | | | | |
| --- | --- | --- | --- | --- |
| | 2016 | 2017 | 2018 | 2019 |
| Revenues | $79.4M | $83.6M | $91.3M | $99.5M |
| Expenses | $78.0M | $81.6M | $87.5M | $96.0M |
Check out (GoUtahUtes.com) to find all the latest news about the Utes!
Revenues continue to soar for the Utes who have benefited from receiving a full share of conference revenue after getting just a partial amount during the first four years.
In just the past decade, Utah's revenue in the Pac-12 has more than doubled, and the figure is even more staggering when compared to Utah's last year in the Mountain West Conference.
In 2010, the Utes had revenues of just $30.9 million. Now just nine years later, the athletic department has seen revenue triple, which has allowed the University to reinvest that back into the program with numerous upgrades and new facilities.
Utah Athletics: 2019 Expenses Soar — Here's The Full Breakdown
If the trend continues, the Utes will surpass the century mark and will join a select group of programs that have over $100 million in revenue. Overall, the Pac-12 is expected to distribute approximately $33 million per school this year, which is up 5.4% year-over-year.
However, the Pac-12 distributions are less exciting compared to the $44.6 million in media rights that the SEC delivered to its schools and approximately $55 million that the Big Ten is expected to deliver. What's more troubling, is that the Pac-12's media rights deal doesn't expire until 2024 and that revenue gap between the Pac-12 and other Power 5 conferences will only get worse until the conference can finalize a new mega-deal.
Revenue Breakdown
Once again, Utah received a big boost in ticket sales along with its Pac-12 affiliation to reach another all-time high during the past fiscal year. Of course, the biggest chunk of Utah's revenue came from its Pac-12 affiliation (media rights, etc.) as the Utes received $32.6 million from the conference — up from $32 million last year.
The department recorded $19.9 million from ticket sales — an increase of $1.2 million from the previous year. Football accounted for most of the ticket sales with $16.1 million, which is up $1.49 million year-over-year.
Men's basketball tallied $2.2 million — which is down from $2.56 million the prior year. Revenue from women's gymnastics jumped once again as the program brought in $616,421 in revenues which is up from $545,897 the prior year. The program also received nearly $12.2 million in contributions, up from $9.5 million from last season.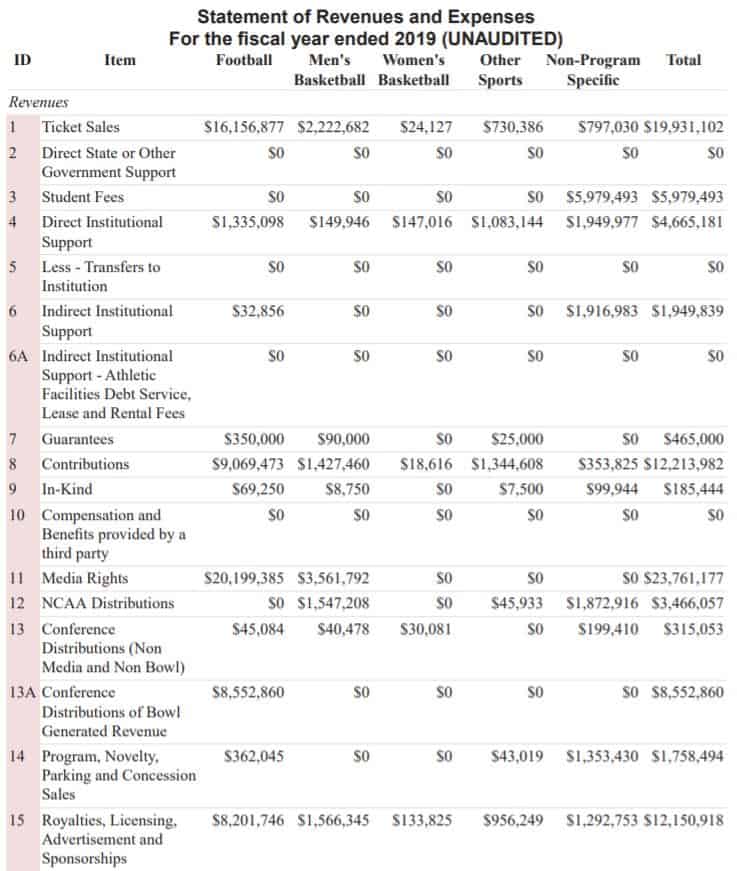 Breaking it down further, Utah received $23.7 million from media rights — up from $22.4 million the prior year and $12.1 million in royalties and licensing deals which is up $9.9 million year-over-year. The program received $8.8 million in conference distributions — down from $9.5 million the prior year — and also saw a decrease in parking and concession sales ($1.9 million to $1.7 million), according to the report.
After seeing student fees drop from $6.05 million in 2017, to $5.95 million in 2018, student fees ticked up a bit in 2019 to come in at $5.98 million. This accounts for roughly six percent of Utah's total revenue last year.
For more coverage and to see a full breakdown of expenses, please click here.
Check out (GoUtahUtes.com) to find all the latest news about the Utes!
Support us by following us on Facebook and on Twitter.
Utah Athletics: 2018 Revenue Soars In What Was Another Record-Setting Year