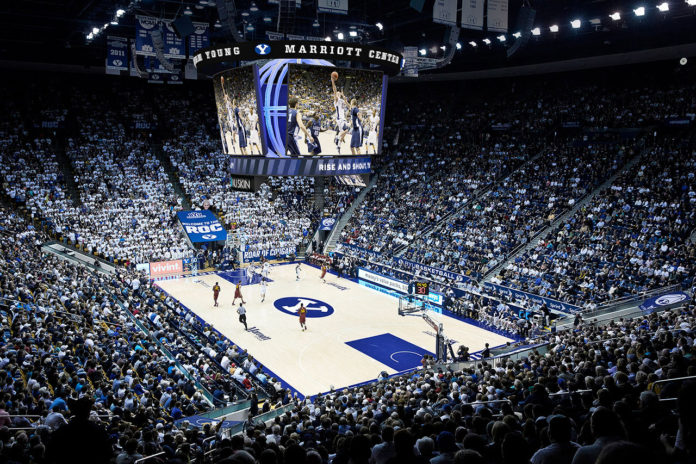 Elijah Bryant put on a show Saturday night in the Marriott Center as the junior scored a season-high 29 points and had a game-high three steals as BYU beat rival Utah, 77-65, in the 258th meeting between both teams.
If the BYU football team can't beat them, the basketball team will. Saturday's win over the Utes broke a three-game losing streak in the series for the Cougars who have now won 12 of the last 16 meetings. With the win, BYU now has a 130-128 lead in the all-time series.
Yoeli Childs was dominating as the sophomore had 15 points and five rebounds before missing half of the second half after going down with an ankle injury. The sophomore still had three blocks on the night, giving him three-plus blocks for the fifth time this season and 12th time in his career.
Utah's Tyler Rawson nearly had a triple-double with 15 points, 10 rebounds and eight assists in the loss. Senior guard Gabe Bealer chipped in with 13 points and five rebounds.
Utah Defeats Colorado 34-13; Ute Fans React As Team Becomes Bowl Eligible On Senior Night
BYU Student Section Calls Out Utah's Larry Krystkowiak
It was a long time coming for Cougar fans. The BYU student section waited two years for Saturday's game after Utah head coach Larry Krystkowiak cancelled last year's game in which he cited a "venomous and toxic environment" between the two programs. It was just the second time that's happened since World War II that both teams have not played against each other. The change came after BYU guard Nick Emery took a cheap shot against a Utah player two seasons ago.
The student section was full of fans with hard hats, caution tape and safety vests as they regularly chanted "That's not safe." Before the game tipped off, Krystkowiak smiled as the student section chanted "80 grand" at him, the cost of which "he paid" to cancel last year's game.
Here's how fans and players reacted after Saturday night's game:
THAT ONE WAS FOR YOU COUGAR NATION!!! Love this team ??? #byuhoops

— Luke Worthington (@worthington41) December 17, 2017
BYU has not lost to Utah in football or men's basketball since @coachgrimey was hired… #BYUSN #BYUHoops

— Josh Freeman (@CVFreeman) December 17, 2017
Well Ute fans its time for another year of "Who even cares about basketball anyways" good times. #BYUhoops #BYUvsUtah

— ⚾McKay Bushman⚾ (@LilBushBushman) December 17, 2017
There are 2 year olds in Salt Lake County that have never seen @UtahMBB beat @BYUbasketball.#BYU #BYUhoops #GoCougs #UTAHvsBYU #HolyWar #Utes #RunningUtes

— Jason Ludlow (@JasonMLudlow) December 17, 2017
Dave Rose is 13-6 against Utah. This is BYU's state and UoU is just living in it! #BYUhoops https://t.co/aoCQ6O0W3v

— S. Young & Da Cougs (@That_Y_Lyfe) December 17, 2017
All history teachers should give their students extra credit if they listened to Walton call the #BYU game. Dude was spitting out the knowledge. #BYUhoops

— Bart Mills (@JBartMills) December 17, 2017
#billwalton is welcome in Provo any time. #BYUhoops

— Jeff Hosking (@jboomer) December 17, 2017
Utah Football: Kyle Whittingham Isn't On The Hot Seat And Won't Be Leaving Anytime Soon Either
I had forgotten how good it feels to beat Utah. #BYUhoops #BYUvsUtah

— David Magnesen (@scrodco) December 17, 2017
Undefeated in-state this year. Does that mean we win Brigham's horse saddle or something? #BYUhoops

— Thunder BuddyCB (@ThunderBuddyCB) December 17, 2017
We want Bama. Oh wait… #BYUHoops

— Chase (@Chase_a_saurus) December 17, 2017
OUR STATE ?#GoCougs #BYUhoops pic.twitter.com/qAZuOFQoE2

— BYU Basketball (@BYUbasketball) December 17, 2017
Deseret Duel Champs!!#GoCougs #DFDuel #BYUhoops pic.twitter.com/VbLgFZWjtY

— BYU Cougars (@BYUCougars) December 17, 2017
Up next for BYU is a home game against Idaho State on Thursday. Meanwhile, Utah will host Northwestern State on Wednesday in the final nonconference game of the regular season.
Follow Fan Insider on Facebook and on Twitter.
Bill Walton: The Best Quotes During The BYU-UTAH Game (W/Videos)