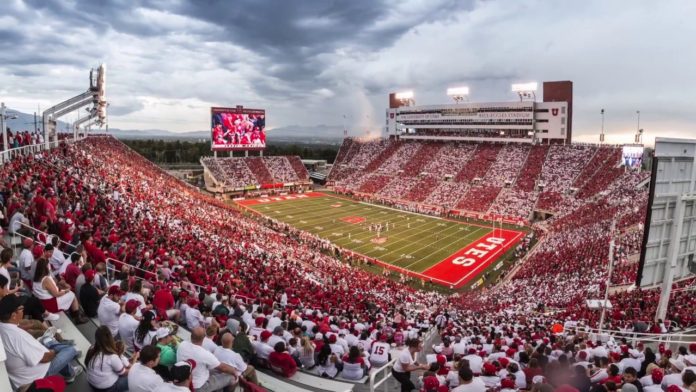 Utah quarterback Tyler Huntley did it all.
The junior out of Dania, Florida had a game to remember as he threw two touchdowns, ran for a score and also hauled in a 58-yard touchdown pass to lead Utah past Arizona, 42-10, Friday night at Rice-Eccles Stadium.
After upsetting then-No. 14 Stanford last week, the Utes didn't come out sluggish as they picked up right where they had left off and built a quick lead and didn't look back. The Utes controlled both the lines of scrimmage and played their best ball of the season after dropping their first two conference games.
TRICK PLAY! Britain Covey (@brit_covey2) throws a strike to Tyler Huntley (@_SNOOP1) for a 58-yard TD pass. Utes now up 35-0 early in the third quarter.#Utes #GoUtes #UtahFootball #UtePride #Pac12FB #AZvsUTAH pic.twitter.com/rY3Xx3WjPw

— GoUtahUtes (@UtahUteFans) October 13, 2018
While there were too many highlights to count, there were several that stood out, including a fake punt by Mitch Wishnowsky, Demari Simpkins' 68-yard touchdown catch and a sweet grab by Jaylen Dixon.
The Utes even ran a lovely trick play in which as Huntley handed the ball to Zack Moss, who tossed it back to Britain Covey who then threw a perfect spiral to Huntley to put the Utes up 35-0 early in the third quarter.
Huntely finished the night completing 14-of-19 passes for 201 yards and two touchdowns as well as one rushing touchdown (64 yards) and one receiving touchdown (58 yards).
The Utes are "Shyning" tonight as RB Armand Shyne races in for a 22-yard TD after a fake punt by Mitch Wishnowsky. Utah now up 42-10. #GoUtes #AZvsUTAH #UtahFootball #Utes #Pac12FB pic.twitter.com/09ESB5PnDY

— GoUtahUtes (@UtahUteFans) October 13, 2018
Utah Football: National Media And Fans React After Win Over No. 14 Stanford
Arizona quarterback Khalil Tate, a preseason Heisman finalist and who has been injured for much of the year, left the game in the first quarter after reinjuring his ankle. Rhett Rodriguez came in to throw for 226 yards and a touchdown, but the game was already out of reach.
Utah finished the game with a balanced attack with as the Utes had 230 yards rushing to go with 265 yards through the air. Meanwhile, Arizona was held to just 72 yards on the ground.
Here's how everyone reacted after the game:
Britain Covey 2nd best QB in the state. pic.twitter.com/zEBkYYWTFQ

— Go Utes Go O's (@BigGuyUteFan) October 13, 2018
MOOD pic.twitter.com/hoEWFIregS

— THE RealU 2018 Pac 12 Champs (@therealutahutes) October 13, 2018
Live look at Troy Taylor. #goutes #AZvsUTAH pic.twitter.com/kKiWktbzEL

— Utah Athletics (@utahathletics) October 13, 2018
Utah has scored 40+ in a conference game 10 times since joining the Pac-12. Two of the 10 have come in back-to-back weeks this season.

— Bryan Fischer (@BryanDFischer) October 13, 2018
To put Arizona-Utah in perspective, the Utes have won a Pac-12 game by 28+ only three times since joining the conference.

— Bryan Fischer (@BryanDFischer) October 13, 2018
Utah should only rush two and make it fair.

— Tom Fornelli (@TomFornelli) October 13, 2018
Could change, obviously, but as of right now, feels like game for the South title is next week in SLC, when the Trojans visit

— Jon Wilner (@wilnerhotline) October 13, 2018
Two straight back to back dominating wins . This just feels…. different . Something flipped before Stanford and this team is on a mission.

— THE MightyAlaskanUte (@MightyAlaskaUte) October 13, 2018
Tyler Huntley (@_SNOOP1) is on ??? here in the first half.
Passing: 11/14 189 yards, 2 TD's
Rushing: 43 Yards, 1 TD#Utes #GoUtes #UtePride #UtahFootball #AZvsUTAH #Pac12FB pic.twitter.com/uNINTpOiTt

— GoUtahUtes (@UtahUteFans) October 13, 2018
The boys are back!

A good contingent of Jazzmen have been at each of the Utes home games this season. I think they like it here. #AZvsUTAH #Pac12FB #TakeNote #UtahJazz pic.twitter.com/QEzr2khqCG

— Porter Larsen (@Larsen_ESPN) October 13, 2018
Utah Football: Why The Utes Will Win The Pac-12 South Division
If anyone deserves a fake punt run on them in the 4th qtr of a blow out it's Arizona.

— Dahlelama (@dahlelama) October 13, 2018
Tyler Huntley is the 2nd Utah QB in the the last 2 years to Catch/Throw/Run for a Touchdown…
Last year vs. USC Troy Williams #Utes

— Bill Riley (@espn700bill) October 13, 2018
What. A. Throw! Utah now up 21-0 after Huntley (@_SNOOP1) finds Demari Simpkins for a 68-yard TD pass. #Utes #GoUtes #Pac12AfterDark #Pac12FB #AZvsUTAH #UtePride #UtahFootball pic.twitter.com/YKkFhZWIhg

— GoUtahUtes (@UtahUteFans) October 13, 2018
Game ball: @_SNOOP1 pic.twitter.com/MGxEayQ2n0

— Utah Football (@Utah_Football) October 13, 2018
A UTAH MAN AM IIIIIIIIIII! #GoUtes pic.twitter.com/AXcfrhkv7z

— Utah Football (@Utah_Football) October 13, 2018
Utah's offensive transformation is no fluke. Not after 82 points and 900+ yards in two games. The Utes will be favored and feared from here on out.

— SportsPac12 (@SportsPac12) October 13, 2018
University Of Utah: Ranking The Top 20 Pro Athletes Of All Time
Can we skip the Utah game this year? They could hang 80 on BYU.

— Just Win (@Cougarwire) October 13, 2018
"Put your foot on their throat and keep going." – Kyle Whittingham

I like this Kyle….and he kinda scares me.

— Here's Jonny (@Jonnyj20) October 13, 2018
What y'all got to say about the offense now? pic.twitter.com/OeDFnfe9PM

— JP Chunga (@JP_Chunga) October 13, 2018
That was sweet! So happy for Demari! Tyler I ? you.

— Jamal Anderson (@jamthedirtybird) October 13, 2018