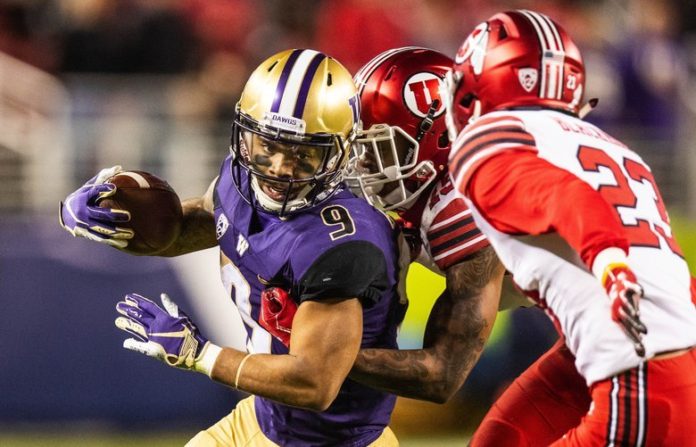 Tyler Huntley threw for 284 yards and a touchdown and ran for another to lead No. 9 Utah to a 33-28 come-from-behind victory over Washington.
With the win, Utah improved to 8-1 on the season, its best start since 2015. The victory also kept the Utes' College Football Playoff hopes alive thanks to a defense that forced three turnovers, including a pick-6 from Jaylon Johnson in what was the turning point in the game.
Check out (GoUtahUtes.com) to find all of the latest news about the Utes!
Utah got off to a slow start as the offense couldn't get much of anything done as Huntley was sacked four times in the first half. Coming into the game, the Utes had allowed just seven for the entire season.
But Utah's seniors wouldn't be denied as they keep their quest of playing for and winning a Pac-12 title alive.
After going down 14-3 in the first half, Tyler Huntley, Zack Moss and Julian Blackmon stepped up with big plays to swing the momentum back over to the Utah side. Moss finished the game with 100 yards rushing and a touchdown to go with timely first downs in the second half. Blackmon had 8 tackles, including an interception as the Utes shut down the Huskies in the second half.
AP Top 25 Poll: Utah And Oregon Back In The Top 10; LSU Passes Alabama For No. 1 Spot
Utah continued its dominating performance in rush defense as the Utes allowed just 53 yards on the ground. Utah entered the week with the best run defense in the country and showed why in the nationally televised game.
Moss, who broke two school records last week, continued his record-breaking performance as the senior running back scored on a two-yard run in the fourth quarter to give him 36 total touchdowns in his career. That score helped him pass Eddie Johnson to sit atop the record books.
Utah also snapped Washington head coach Chris Petersen's streak of being unbeaten coming off a bye week. In his career at Boise State and Washington, Petersen's teams had been 18-0 when coming off an open date.
Here's how fans and players reacted after the game.
Zack Moss breaks another school record! Now has 36 total touchdowns. Congratulations Zack Moss (@PresMoss2). #GoUtes #Pac12FB #Utes #UBoyz https://t.co/l4YgjwXx6O

— GoUtahUtes (@UtahUteFans) November 2, 2019
SO PROUD TO COACH THIS TEAM https://t.co/mZsXftmcWJ

— Kyle Whittingham (@UtahCoachWhitt) November 3, 2019
Thanks for showing up in Seattle UteNation! I know the boys appreciate it! So, very proud of this group. Tough and resilient! #OBLOCK #UTAHFOOTBALL

— Jim Harding (@coachjharding) November 3, 2019
Great team win!! https://t.co/I6xF0nijRN

— devinlloyd (@DevinLloyd_) November 3, 2019
History in the making.

— Nick Ford (@FearThat55) November 3, 2019
I must say this again! I'm so proud of this Group of young men that live for each other and support each other! They all contributed and made plays when their number was called! I Love this Group! Bomb Sqiad members who aren't here your time is coming! pic.twitter.com/MN11zuZSos

— Coach Guy Holliday (@eagle88me) November 3, 2019
I'm 100% In. This @Utah_Football is the GREATEST Utah Football Team…EVER. Point Blank Period ??‍♂️

I played 4 years up there. And was apart of some talented and legendary teams. With respect to my teammates, this 2019 Team is the Best, Hands Down. What a Comeback #UBOYZ

— Isaac Asiata (@AsiataFive4) November 2, 2019
GREAT DAY TO BE A UTE #GoUtes

— Reggie Dunn (@ReggieDunnJr) November 2, 2019
That's UTAH FOOTBALL ??❤️

— Shaky Smithson (@ShakySmithson) November 2, 2019
Big win. Well done Utes. Battled all game. Special team. Keep rolling! #GoUtes

— Jamal Anderson (@jamthedirtybird) November 2, 2019
Can't say enough about how impressive #Utah QB Tyler Huntley is. Playing on a gimpy knee, he goes 19 of 24 for almost 300 yards and throws and runs for two TDs at Washington. He's now completing over 78% of his passes on the road. Stud.

— Bruce Feldman (@BruceFeldmanCFB) November 3, 2019
Heck of a job by Utah in the second half. Now need Oregon to take care of SC to keep Pac-12 hopes alive for 11-1 Oregon vs 11-1 Utah in title game.

— Chris Fallica (@chrisfallica) November 2, 2019
There are a lot of people that should be congratulated for Utah's big win. Andy Ludwig needs to be at the top of that list. Early trouble up front, He adjusted and got them on track. Big game by big players J Johnson and Bradley Anae. Championship level response by the Utes.

— Hans Olsen (@975Hans) November 2, 2019
The Utes check a lot of boxes with the 33-28 win at Washington.

Erase double digit deficit
Win on the road
Win 5 straight Pac12 games for the 1st time
End 4 game losing streak vs Washington

Will Oregon beat USC? Gotta grab something to eat and watch another game.

— David James (@DavidDJJames) November 2, 2019
Special feeling as the team walked off the field… Fans chanting "LETS GO UTAH!!" echoed through the stadium, Huntley showing the fans love, players wanted this one, this was a big one!!!!

— Steve Bartle (@SBartle247) November 2, 2019
I am so glad I drove through the night to be at this game. Love this team. pic.twitter.com/ItKizorFvE

— Dahlelama (@dahlelama) November 2, 2019
Go Utes- pic.twitter.com/qIY4SqXvGP

— Mark Harlan (@MarkHarlan_AD) November 2, 2019
Yessir Now maybe someone will show a little Respect

— Coach Guy Holliday (@eagle88me) November 2, 2019
Sweetness in Seattle! So proud of and happy for this group of players. They are committed to the process. Let's go Utes! See you at Rice-Eccles in two weeks to face the UCLA Bruins!

— Fred Whittingham Jr. (@FWhittinghamJr) November 2, 2019
Good win for Utah! You love to see it #GoUtes

— C.J. Cron (@CCron24) November 2, 2019
— beehiveute (@beehiveute) November 2, 2019
I don't know if we will ever see a better duo than Moss and Huntley put on Utahs uniforms. I love the hell out of those dudes and am going to enjoy every minute watching them regardless of the USC results. LOVE these dudes!!!!!

— Ute_Sox (@Ute_Sox) November 2, 2019
Dear Utes,

You had me swearing, questioning and wondering….and then you showed up, had me clapping so hard my hands went numb. That was a gut check W!! #GoUtes pic.twitter.com/zCVbC3meUY

— UtahGuy (@gwapojas) November 2, 2019
Support us by following us on Facebook and on Twitter.