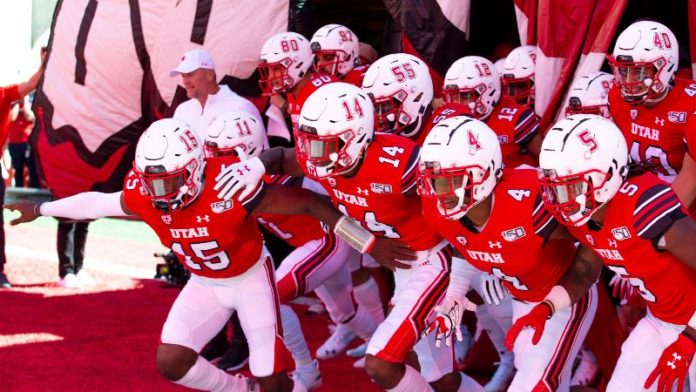 Since the loss to USC, No. 12 Utah has outscored its opponents 146-23 in its last four games, including a 35-0 shutout win over California Saturday night at Rice-Eccles Stadium.
The Utes led from start to finish and had arguably its most dominating performance of the season as the offense racked up 473 yards of total offense, while holding California to a season low 83 yards.
It was the Utes' first shutout win in Pac-12 play as the defense continues to play lights out. In fact, the defense has allowed just 10 points to opponents over the past 14 quarters. Meanwhile, the last time the Golden Bears were shutout was back in 1999 in a 45-0 loss to Nebraska.
Breaking: our defense is really good. #goutes #Pac12FB pic.twitter.com/oItPc9xtPf

— Utah Athletics (@utahathletics) October 27, 2019
AP Top 25 Poll: Utah And Oregon Move Up, Wisconsin And Arizona State Fall
Despite only playing in the first half, quarterback Tyler Huntley made the most of it as the senior completed 11 of 17 passes for 214 yards and a touchdown to give Utah a commanding 28-0 lead at the half.
Running back Zack Moss — who broke the school rushing record last week — had another standout performance as the senior rushed for 115 yards and two touchdowns while also hauling in three catches for 89 yards in the win.
Moss set two records in the win as he recorded his 32nd rushing touchdown in program history to pass Del Rodgers who had 31 from 1978-81. And with his 15th 100-yard rushing game, Moss also broke the school record to pass John White and Devontae Booker who each passed the century mark 14 times.
With the win, Utah can now focus its entire attention against Washington in arguably the biggest game of the season for the Utes. A loss next week likely takes the team out of the Pac-12 South race with USC currently holding onto a one-game lead thanks to its head-to-head win last month.
Here's how fans and players reacted after the game.
Shake and Bake!

Zack Moss (@PresMoss2) can't be stopped!! Utah up 35-0 in the 3rd. #Utes #Pac12FB #GoUtes #CALvsUTAH pic.twitter.com/KXXCxCuHhm

— GoUtahUtes (@UtahUteFans) October 27, 2019
ASU avg passing/game 233 yards

Cal avg passing/game 193 yards

ASU & Cal combined 426 yards

Utah held ASU to 25 and Cal to 60

Utah has allowed 85 total yards passing in 2 games in the Pac12.

85 yards……
In 2 games…..

— Hans Olsen (@975Hans) October 27, 2019
Cal ran 43 plays against Utah and only 20 of them gained positive yardage. Bears had 83 yards of offense (1.9 ypp).

— Bryan Fischer (@BryanDFischer) October 27, 2019
Utah is clearly the best team in the Pac-12, and I also think a top-six team overall.

And if it wasn't for a stupid Friday night road game, the Utes would be squarely in the CFP discussion.

— Max Meyer (@TheMaxMeyer) October 27, 2019
Utah leading Cal 35-0 after 3. Utes have been absolutely dominant since that USC loss.

— Stewart Mandel (@slmandel) October 27, 2019
The Utes make their case as the best team in the PAC-12 with a 35-0 win over Cal. Utah has now held their past 4 opponents to a total of 23 points. Expect the Utes to be ranked #10 this week when the polls come out.

— WestCoastCFB (@WestCoastCFB) October 27, 2019
Great team win?

— Jordan Wilmore? (@thee5ivester) October 27, 2019
We like physical games

— Nick Ford (@FearThat55) October 27, 2019
YEEEEEA UTAH?

— Julian Blackmon (@JulianBlackmon) October 27, 2019
MOSSSSSSSSS!!!!!!

— Jamal Anderson (@jamthedirtybird) October 27, 2019
@Utah_Football REST UP. We will need it all next Saturday. pic.twitter.com/66SHVSLH0w

— UtahGuy (@gwapojas) October 27, 2019
Take a bow Zack… records were meant to be broken. pic.twitter.com/rsZXTjI8g0

— MJO (@mckinleyj) October 27, 2019
The last time Utah held a conference opponent scoreless? November 2007 vs. Wyoming, a 50-0 middle finger inducing thumping.

— Robert Jackson (@rojackKSL) October 27, 2019
If you want to see what complete domination looks like …. wow that is just ridiculous! #GoUtes pic.twitter.com/4Ql6CoBd1P

— Wrigleyville Ute (@jhallito) October 27, 2019
Tyler Huntley Record Watch
476 career completions 5th All Time at Utah#Utes

— Bill Riley (@espn700bill) October 27, 2019
Seven lopsided wins and a loss to Matt Fink.

— Kyle Bonagura (@BonaguraESPN) October 27, 2019
Cal already loading the truck ? pic.twitter.com/7lXg1gyQSn

— MUSSEMERITUS (@MUSSemeritus) October 27, 2019
Support us by following us on Facebook and on Twitter.
No. 13 Utah Defeats No. 17 Arizona State; Zack Moss Sets Record