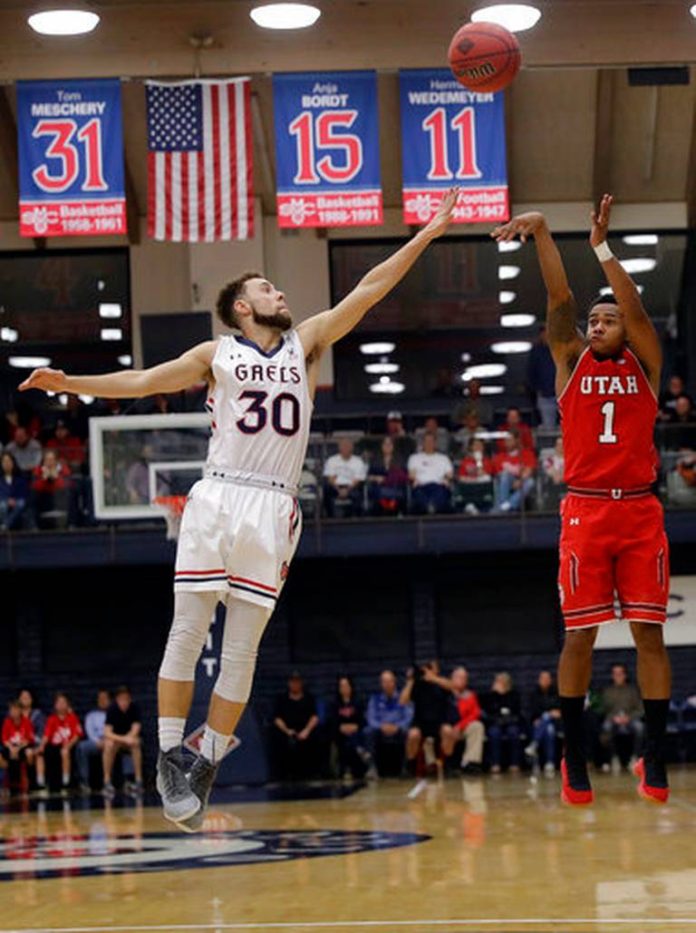 Utah is headed to New York City.
Despite playing on the road and without senior David Collette in the second half, the Runnin' Utes took down top-seeded Saint Mary's with a 67-58 victory in overtime. Utah became the second team — along with Gonzaga — to defeat Saint Mary's on its home court this season.
Collette, Utah's second leading scorer at 12.6 points per game, scored just eight points and played 14 minutes due to a back injury. But other players stepped up as Sedrick Barefield and Gabe Bealer knocked down big shots in regulation as the Utes finished regulation on a 10-1 run to force overtime. Utah kept it going in extra time as they outscored the Gaels 13-4 to cruise to victory.
Twitter Reacts As Utah Beats LSU; Donovan Mitchell Makes Appearance
With the win, the Runnin' Utes advance to the National Invitational Tournament (NIT) Final Four at Madison Square Garden. Second-seeded Utah will take on fourth-seeded Western Kentucky on Tuesday.
Utes senior forward Tyler Rawson scored 17 points and pulled down a team-high seven rebounds. Barefield scored a team-high 19 points, and both he and Rawson combined to make five 3-pointers apiece.
Here's how fans, coaches and players reacted on Twitter:
WE GOING TO NYC!!!! #GoUtes #NIT pic.twitter.com/j7KIU5ACoM

— Utah Basketball (@UtahMBB) March 22, 2018
Tonight @UtahMBB hands St. Mary's only its second loss at home all season. The other loss came to current Sweet 16 squad Gonzaga. #goutes pic.twitter.com/Zc4gtRUt0a

— Utah Athletics (@utahathletics) March 22, 2018
LOSER HAS TO PUSH THE BLEACHERS BACK IN!!!!

— THE MightyAlaskanUte (@MightyAlaskaUte) March 22, 2018
Onto NYC! Thanks for taking me through it @espn700bill and @jimmysoto15. It's 4:18 a.m. here in Northern Ireland and I won't be able to fall asleep easily…. Great work @UtahMBB! #GoUtes pic.twitter.com/XC7LUdLAUx

— Chandler Wride (@ChandlerAtTheU) March 22, 2018
The Runnin' Utes are headed to New York City!?#GoUtes!

— University of Utah (@UUtah) March 22, 2018
Man couldn't be more proud of this team! New York here we come ? #GoUtes

— Justin Bibbins (@jbibbs21) March 22, 2018
Yes, Runnin' Utes. Yes! #GoUtes

— Jamal Anderson (@jamthedirtybird) March 22, 2018
#GoUtes yeaaaaaaaa New York bound pic.twitter.com/r3tdNENYhz

— kuz (@kylekuzma) March 22, 2018
GO UTES!! Going to #MSG! @utahathletics

— Jack Tuttle (@jacktuttle14) March 22, 2018
This didn't age well https://t.co/gA9D3Trfqu

— This Justin ? (@thiz_justin) March 22, 2018
The NIT and St. Mary's failed to secure any hotel rooms for Utah so the Team stayed in an Air B&B in Berkeley. #Utes

— Bill Riley (@espn700bill) March 21, 2018
The kids on this team get the experience of traveling to NYC and playing in Madison Square Garden. Anyone hating on that doesn't understand what it's all about: The Players.

— Fred Whittingham Jr. (@FWhittinghamJr) March 22, 2018
UTAH WINS!!!!!
67-58 and they are NEW YORK Bound!!!
It's a Great Night to be a UTE in Northern California!#Utes @UtahMBB

— Bill Riley (@espn700bill) March 22, 2018