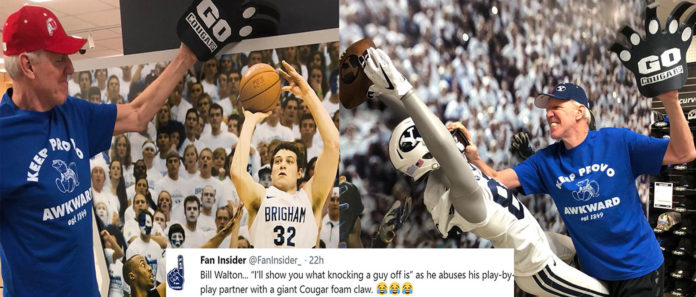 Before Saturday's Holy War showdown between BYU and Utah, NBA Hall-of-Famer Bill Walton took a tour of the BYU campus with a "Keep Provo Awkward" t-shirt while wearing a BYU/Utah hat.
The UCLA legend, who played under legendary head coach John Wooden, sure knows how to have fun and can keep any game entertaining — regardless of the teams playing or score.
With Walton scheduled for the BYU game — a game he admits to requesting as his No. 1 choice — fans were treated to his hilarious and nonsensical antics as he provided the "color" commentary alongside play-by-play commentator Roxy Bernstein.
Instant Reaction: Elijah Bryant Scores Season-High As BYU Beats Utah, 77-65, At Marriott Center
While some people love him, some dislike him and others mute him, Walton's performance Saturday night was arguably one of his finest as he used a Cougar foam finger to claw his broadcasting partner — all while making Cougar noises.
He joked about meeting "Cougars," referenced the honor code and "this is the place," and also went off about Jimmer Fredette and Utah's beautiful national parks while all at the same time giving many a history lesson about the Beehive State.
With that, here is some of the best lines from Walton on Saturday night:
"I know some Cougars. I met one today."
"How about the spread (all-time series) being 129-128. I hope that is the final score tonight."
"Bill: "Roxy, what's the elevation of Mount Timpanogos?"
Roxy Bernstein: "I don't know."
Bill: "The perfect height. Towering over the Utah valley."
LSU's Jeff Grimes Replaces Ty Detmer As Offensive Coordinator; BYU Fans, Players And Alumni React
"Larry Krystkowiak, whose wife Jan and one of their three sons came to the game tonight. Risking everything to come into this arena."
"I love Jimmer. Jimmer had a 56-point game the other night. He's averaging 39 points per game in China. Let it fly Jimmer."
"Yoeli is back. Is Brigham Young back there in the locker room giving him Holy water?"
"Don't even talk to the refs (Larry Krystkowiak). Just go to the locker room and figure it out and restart."
"You don't take a year off. That's why you don't let the coach (Larry Krystkowiak) make the schedule. You let Chris Hill make the schedule."
Walton showed off his BYU knowledge after Elijah Bryant hit back-to-back 3-pointers and forced Utah to take a timeout midway through the first half saying:
"That's Danny Ainge basketball. That's Kresimir Cosic basketball. That's Jimmer Fredette basketball. That's Tyler Haws basketball. It's all on display tonight."
The videos below make it even more entertaining as Walton asked if a Runnin' Ute could outrun a Cougar, referenced Lady Gaga and became the unofficial spokesman for Utah.
So sit back, grab some popcorn and enjoy the videos:
This is ???

Can a Runnin' Ute outrun a Cougar? -Bill Walton#BYUHoops #BYUvsUTAH pic.twitter.com/vpdCFNqaTO

— Fan Insider (@FanInsider_) December 17, 2017
Bill Walton… "I'll show you what knocking a guy off is" as he abuses his play-by-play partner with a giant Cougar foam claw. ???#BYUHoops #BYUvsUTAH @byuROC pic.twitter.com/coq7mYJQMc

— Fan Insider (@FanInsider_) December 17, 2017
Elijah Bryant blocks former #BYU commit Christian Popoola for the cherry on top. #BYUvsUTAH #BYUHoops

"Send it back Elijah. Bryant playing like Michael Jordan, Scottie Pippen, LeBron James, Kobe Bryant." – Bill Walton@byuROC @BYUSportsNation @CriddleBenjamin @BYUbasketball pic.twitter.com/fBwtqgZEBK

— Fan Insider (@FanInsider_) December 17, 2017
Nothing like a Lady Gaga reference during the #BYUvsUTAH game.

"Angel down, and right now it's the Runnin' Utes who are down." – Bill Walton #BYUHoops #GoUtes #GoCougs pic.twitter.com/r73XNz4jfT

— Fan Insider (@FanInsider_) December 17, 2017
Bill Walton is putting on a show! Should be @VisitUtah new spokesman. @BusinessUtah

Fans saying they learned more state history than they ever did in school. #BYUvsUTAH #BYUHoops #GoUtes pic.twitter.com/g8T0naG1ym

— Fan Insider (@FanInsider_) December 17, 2017
Follow Fan Insider on Facebook and on Twitter.
Jamaal Williams Proves He's A Must-Have For Fantasy Owners After Putting On Another Show In Packers Overtime Victory Over Browns